"Apple Pie for the Soul "
The new book by Gabriela Zander-Schneider
Original edition 2014
3rd edition 2017
208 pages
Editor: Gabriela Zander-Schneider
Cover photo: Gabriela Zander-Schneider
ISBN: 978-3-00-046004-3.      
eBook
ISBN: 978-3-00-046562-8
[Kindle Edition] [Via tolino media] Thalia, Weltbild, Hugendubel
bücher.de, eBook.de, osiander.de
Mayersche, meine Buchhandlung (myBookShop)
Reading sample from the enchanting Chiemsee novel "Apfelkuchen für die Seele" (ISBN978-3-00-046004-3)
We hope you enjoy it!
A few weeks earlier in Prien, a small town on the Bavarian Chiemsee:Annemarie walked through the large front garden towards the respectable farmhouse with a plate of freshly baked apple pie in her hand. The old massive front door was open. Far and wide there was no one to be seen. Only Bernie, the Bernese mountain dog, greeted her with a wagging tail, but remained lying lazily next to the front door in the shade of the house.
"Yes, Bernie, where's your master?" she asked as she passed and looked around searchingly. Strange, she thought, no one to be seen?
"Anton! Anton, where are you?" Annemarie called as she entered the house. It was cool inside the old walls. She knew her way around the ancient courtyard building, as she and the owner had been neighbours since childhood, just like her fathers and their fathers. In the empty kitchen, she put the cake down on the massive wooden table and went in search of her old friend Anton Neumeister. "Anton. Where are you?" she called again and still received no answer. At the end of the long hallway, the door of the study stood ajar. "Anton?" Annemarie peered through the crack in the door. The old man was sitting at his desk, staring ahead of him. Only when she energetically stood up in front of his desk, put one hand on her hip and tapped the desk top with the other, did he look up.
"Good day, Anton, I've been looking for you for a while. Why are you looking so pensive? Has something happened?" And without waiting for his answer: "I baked a nice apple pie. Would you like a fresh coffee to go with it?
"Motionless, her old friend held a small, yellowed black-and-white photo in his hand. Slowly he looked up at her. "Good of you to come, I need to talk to you about something," he said quietly, without answering her question. "Did something happen?" asked Annemarie anxiously, glancing at the numerous old photographs, bundles of letters and the worn box. The unfamiliar chaos on his desk irritated her. "You seem strange to me somehow," she added quietly. Anton looked at her, lost in thought: "But no, make a good coffee and then we'll sit down together. I'll tell you about it then. "
I don't know him like that, Annemarie thought on her way to the kitchen. Nimbly, she put the coffee water on. With a practised hand, she took the old porcelain filter, the filter bags and the bulbous coffee pot with a rose pattern out of the cupboard. Since Anton lived alone, she often went to help him and had rearranged the cupboards in the kitchen to suit her everyday needs. While the hot water quietly crackled, eliciting its aroma from the freshly ground coffee, Annemarie ran the last few minutes through her mind again. Anton had looked at her as if he had just returned from a faraway mental journey. Completely absent. She laid a white tablecloth and two place settings from the old rose service. Then she lit the matching teapot warmer so that the coffee stayed warm in the bulbous pot. From an old milk jug that was freshly filled every day in the fridge, she poured milk into a small jug and placed everything on the table.
With a slight creak, the kitchen door opened and Anton stuck his head in. "You're right. Let's sit here," he said, glancing at the table, "it's so oppressive outside today."
Slowly he went to the cosy dining area in the bay window of the large kitchen. The five bay windows looked out over the farm garden in front of the house, as far as the lake and the mountains. Annemarie quickly brought cake forks and spoons, poured the freshly brewed coffee into the cups and then sat down expectantly at the table with Anton. "Do you like some cake?" she asked casually as she placed a piece on his plate and her own. Annemarie was tense and unsure. What might Anton want to discuss with her and why was he just so different today? He took a big sip from his coffee cup and looked pensively out of the window. "Anton. Come on, make a point! What's the matter with you?" Annemarie rumbled. Her tension was almost unbearable. Without answering, Anton awkwardly took the small yellowed photo from the side pocket of his waistcoat and handed it across the table to the astonished Annemarie. It was the same photo he had held in his hand a few moments ago, sitting at his desk. It showed him as a young man with an attractive blonde woman. He was laughing, holding a little girl in his arms and plucking her an apple from the large tree that stood in the meadow orchard directly behind the main house. Annemarie had recognised it immediately.
She could remember the young woman and also the child, even if only dimly. How many years had passed since then? She turned over the small, worn photo. There it read neatly: "Summer holidays at Lake Chiemsee". And the addition: "A happy time." Indeed, looking at the photo, Annemarie sensed the cheerful, carefree atmosphere that must have prevailed at the time it was taken.
She looked questioningly at her old friend. Slowly and deliberately, Anton lit one of his beloved cigars under Annemarie's critical gaze. It had to be something very important if he smoked in her presence and especially "in" the house. As the first clouds of smoke rose, Anton began to talk. He had to go far out on a limb to do so.
© Gabriela Zander-Schneider
The book is available in bookshops, from the author or from the retailer "Apfelkuchen für die Seele".
(www.zander-schneider.de, www.apfelkuchen-für-die-seele.de)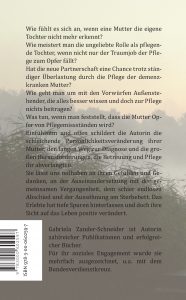 Coffee to go, yoghurt to go, life to go. Always online, always available, always with us, no time to pause.
In a world that seems to be getting louder, more hectic and more inconsiderate, it is becoming increasingly difficult for sensitive people not to break down from it.
Sonja Gärtner, a paralegal in Cologne, inevitably lives a life that threatens to make her ill: Big city noise, hectic pace, bullying at work.
Living in a society where consumption and financial values are paramount, the debts from a failed relationship and the seeming hopelessness in her life of being able to change anything are increasingly taking their toll on her.
Of all things, the letter that could bring a turnaround disappears.
The cover on a country life magazine always casts a magical spell over Sonja. She has no idea how closely the motif is linked to her own fate.
"Apfelkuchen für die Seele" (Apple Pie for the Soul) is the third book by the multi-award-winning, successful author Gabriela Zander-Schneider, in addition to numerous publications.
Download the book flyer (only in German)